About us
---
We, Tarupallab, are trying to protect our ecological heritage for us and future generations. Trees are the longest-lived organisms in the world. They provide shelter and food for innumerable species of birds, mammals and insects. By planting trees today, we are ensuring the survival of species threatened by habitat loss, maintaining the ecosystems on which our lives depend and safeguarding our ecological heritage for future generations.
We have an ageing population of broad-leaf trees in Bangladesh. A large number of them are in their latter years and are vulnerable to storm damage and natural decay. Nineteen million trees were destroyed in the storms of 1988 and 2007. More than thirty million were killed by a host of diseases. With the current bad pollutants outbreak, we are likely to see even worse losses in the next few years and there are other threats to our native trees waiting in the wings.
We need to act now to secure the future of our forest. Over the last 50 years, nearly half of our ancient, semi-natural forest has been cleared or converted to commercial plantations. This destruction of our forest habitat during the last century has seen more than one hundred species of animals become extinct. Many more are on the endangered list. Nearly a fifth of Bangladesh's wild plants and flowers are under threat. We can start to turn things around by planting trees.
Why Taru or Trees:
Trees filter our air and keep it fresh by absorbing carbon dioxide and producing oxygen.
Tree roots stabilize the soil and prevent erosion.
Trees improve water quality by slowing and filtering rain water as well as protecting aquifers and watersheds.
Trees are carbon sinks, accumulating carbon as they grow and acting as stable carbon stores upon maturity
Three-quarters of the world's population rely on wood as their main source of energy.
Thousand of things are made from trees such as furniture, books, newspapers, houses, hockey sticks, guitars, pencils, fences, milk cartons, even nail polish and toothpaste.
Trees lower air temperature and induce rainfall by evaporating water from their leaves.
Trees provide food, shade and shelter to humans and wildlife.
Trees offer protection from the downward fall of rain, sleet and hail as well as reduce storm run-off and the possibility of flooding.
Trees act as sound barriers to reduce noise pollution.
Trees play a major role in helping to conserve the intensity of the Earth's magnetic field.
Trees beautify the landscape. So, we have decided to save our Plants and Tress and we have formed an organization named Tarupallab. Our vision is to nurture a generation of Bangladesh that will not only be concerned about the environment but will have the capacity to manage their resources and adopt sustainable lifestyles. structure
Button Programmes:
Human pressures on the natural environment in Bangladesh are particularly linked to the growing urban lifestyles of modern Bangladeshis. These urban activities include increased demands for resources, in particular for energy, pollution of the soil water and air, diversion of water to meet urban and industrial needs and fragmentation of habitats.
While much of these activities are linked to the daily lifestyle requirements of the average Bangladeshi, the public still maintains a deep-rooted perception that individuals cannot do much to change the situation.
Tarupallab's programmes educate the urban community on the issues relating to the environment and the links to human activity. We believe in empowering Bangladeshis through education and hands-on activities that allow them to be active in conserving the environment.
Our programmes involve communities such as resident groups, welfare organizations, youth groups, schools, colleges and universities as well as the government and private sector.
These programmes help the citizens to realize that a global change of perception begins with an individual.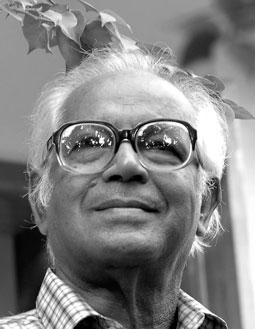 Dwijen Sharma: Founder President
Dwijen Sharma (29 May 1929 – 15 September 2017) was a Bangladeshi naturalist and science writer. He was awarded Bangla Academy Literary Award in 1987 and Ekushey Padak in 2015 by the Government of Bangladesh for his contribution in language and literature. At 2008 He Founded a Botany, Environment & Nature Study Organization TARUPALLAB.
Sharma was born in Shimulia village of Barlekha Upazila of Moulvibazar District in Sylhet Division. His father Chandrakand Sharma was a "Kobiraj" or rural doctor and his mother Mognomoyi Debi was a social worker. During his childhood, he was fond of visiting the forest of Patharia hill which is situated in Barlekha Upazila.
Sharma received his bachelor's degree from City College, Kolkata. He earned his master's degree in Botany in 1958 from the University of Dhaka. He then joined Brojomohun College, Barisal. In 1962 he left Barisal to join the faculty of Notre Dame College, Dhaka and worked until 1974. Then, he moved to Moscow to work for Progress Publishers as a translator.
He moved back to Bangladesh in 2000 and joined Banglapedia (National Encyclopedia Of Bangladesh) Project, Asiatic Society of Bangladesh as an editor and translator of biology. He served as vice president of Asiatic Society for 3 years. An encyclopedia of the flora and fauna of Bangladesh in 56 volumes was published by the Asiatic Society of Bangladesh while he was the president of the publishing committee.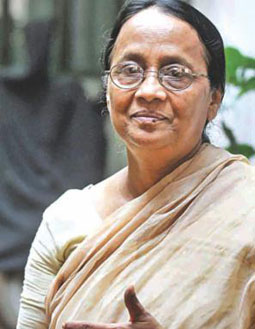 Selina Hossain: President
Selina Hossain is a Bangladeshi novelist. Her major works include Hangor Nodi Grenade (1976) and Poka Makorer Ghor Boshoti (1996). She earned all major national awards - Bangla Academy Literary Award in 1980, Ekushey Padak in 2009 and Independence Day Award in 2018. Her novels and short stories have been translated into English, Russian, French, Japanese, Korean, Finnish and Malay. She was a chairperson of Bangladesh Shishu Academy.
In 1994-95, Hossain won a scholarship from the Ford Foundation for her novel, Sandhya Gayatri.
Hossain retired as the director of the Bangla Academy. She served as a member of the National Human Rights Commission of Bangladesh and the representative of her government to the Executive Board of UNESCO. In 2014, she was appointed as the Chairman of the Bangladesh Shishu Academy.
Hossain's novel Bhumi O Kusum was the first work in Bangla literature to address the enclave issue. She born on 14 June 1947, Rajshahi, Bengal Presidency, British India.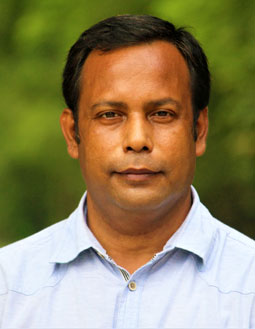 Mokaram Hossain:Secretary
Mokaram Hossain was born on 30th October, 1972 in Chhayani union of Begumganj upazilla in Noakhali district. His father's name is AKM Fazlul Karim and Mother's name is Monwara Begum. Mokaram Hossain did his post graduation from Jagannath University in 1996. Mokaram Hossain is a dedicated activist in the conservation of nature. He is writing extensively in the national dailies and magazines on nature and vegetation. He is also arranging programs on the above issues. To sensitize the mass people. He has launched an organization named "Tarupallab" through which he is organizing programs the "Tree Identification". He is also editing a magazine on nature and environment named "Prokritipotro".
Mokaram Hossain has so far published 50 books. Mentionable among them are:Poribesher Joto Kotha (All about nature), Bangladesh in Alphabet, Rivers of Bangladesh, Fairs of Bangladesh, Trees for Life, The Hundred Flowers of Bangladesh, Our Parks and Gardens, You Tree the Pristine Life, Interesting Flowers and Trees, The Adversaries of the Environment. For his contribution in environmental literature Mokaram Hossain are awarded Kazi Kader Newaj Gold Medal in 2003. He was awarded agrani Bank Children's literature award in 2001 & 2003. In 2011 he was awarded Nurul Kader children's literary Honor, in 2015 he was awarded poet Habibar Rahman Literary award. In 2017 Mokaram Hossain was awarded the 5th HSBC The Daily Star Climate Award. He received City Bank Anondo Alo Literary award in 2019. He received the national environmental award in 2017. He was honored with the Halima-Shorfuddin Science Award ran by Bangla Academy for his book Nisorgo Akkhyan (The stories on Nature).
| Name of Board Member | Designation of Committee |
| --- | --- |
| Biprodash Barua | Member, Advisory Committee |
| Sadat Selim | Member, Advisory Committee |
| Enam Ul Haque | Member, Advisory Committee |
| Dr. Ishtiaq Uddin Ahmad | Member, Advisory Committee |
| Istiak Sobhan | Member, Advisory Committee |
| Rajia Sultana | Member, Advisory Committee |
| Prof. Anwarul Islam | Member, Advisory Committee |
| Name of Board Member | Designation |
| --- | --- |
| Selina Hossain | President |
| Shahjahan Mridha Benu | Vice president |
| Mokaram Hossain | General Secretary |
| Aftabur Rahman | Accountants |
| Shahana Chowdhury | Executive Member |
| Edmund Guda | Executive Member |
| Imam Hossain Gazi | Executive Member |
| Hena Sultana | Executive Member |
| Urmi Lohani | Executive Member |